CD: Ancient Belongings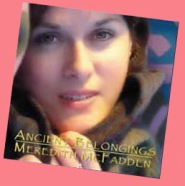 My CD, Ancient Belongings, expresses the ancient magic of the land-whether in Ireland or in the wild places of Oregon.
Whether in a natural, wild setting here in Oregon, or in the magical land of my ancestors — Ireland — the songs on my CD revealed themselves in a variety of ways, often through the soil or stones of each land.
I experienced the God/Goddess transforming me through each of these songs, and I hope they activate a calling/or invite a calming that speaks to you, as well.
Music Samples and Lyrics

Sample 1 - 1:03
Silence No More
LYRICS
Sample 5 - 1:13
Wonder
LYRICS
Sample 2 - :44
Oro, Se do Bheatha
LYRICS
Sample 6 - 1:16
Unicorn
LYRICS
Sample 3 - 1:02
Touching the Ground
LYRICS
Sample 7 - 1:21
Dance Upon Me
LYRICS
Sample 4 - 1:01
Fhear a Bhata
LYRICS
Sample 8 - 1:32
Wonder (Reprise)
LYRICS