Voice Lessons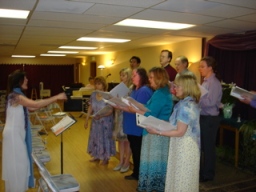 I give voice lessons to students at all levels—from beginning, shy, never-sung-before vocalists...to professional vocalists singing Celtic, Folk, Rock, Opera with ease and comfort in many languages.
If you are seeking to find a truer voice or a more authentic sound in singing or acting, voice lessons taken at regular intervals can be extremely beneficial. Some of these benefits include:
Increased confidence
Expanded vocal range
Heightened breath management
Improved physical, emotional, and psychological awareness
Basic skill in navigating the vocal mechanism
As your voice teacher, I will encourage you to find that truer voice by helping you develop skills in the placement of tone, in accessing a deep breath to ignite your tone, and in really listening as you sing or speak.
Beginning Vocalists: Singing for the Joy of It
If you are just beginning your exploration of voice, I will teach you the basic techniques of optimal breath work. I will also help you increase your power and range while you explore musical literature in all styles.
One of my greatest joys is helping the lay person learn how to sing for beauty and satisfaction alone. I coax your most satisfying sounds using body and vocal warm-ups, a deep understanding of how to manage the breath, and exploration of new ways to place the tone.
This is all done in the spirit of play. Because students often have a lot of new things to integrate, they will sometimes become too serious. At such times, I'll stop and remind them to just have fun. I especially delight in the joy beginning singers experience as they build confidence in their singing.
Professional Vocalists: Improving Artistry
If you are a professional vocalist, I will help you focus on your artistry, auditioning skills and languages. I can give you singing lessons to help you audition for the "big part" in musical theater, sing your strongest in classical art song competitions, support your love of Celtic singing, or carve out tight harmonies in any style.
Uncovering Your Deepest Expression
Your tone…Your voice can ignite you! It describes you from the inside out. The more you sing 'you' from the depths of your being, the more of your beauty and healing energy you—and the world—receive. You become more present upon the earth, and that presence blesses us all.
Let us uncover your expression! With a well-channeled, well-managed breath anyone can produce more tone, more resonance, with more conviction in either their speaking or singing voices. Let's uncover your truer voice together!
My Background in Voice, Theater and Dance
I hold BA degrees in Voice, Theater, and Dance from Western Oregon University and am a member of the National Association of Teachers of Singing (NATS). I learned the basics of classical technique from some amazing teachers and colleagues, including Susan McBerry, Nancy Olson-Chatalas, Myra Brand, and Brian Swingle. Thanks to independent study at the graduate level in Voice-Movement Therapy, I have been able to flesh out a more primal vocal sound.
I was awarded the NATS Northwest Regional First Place winner 3 years in a row at the collegiate level, and then went on to sing in community and professional companies for the next 18 years in venues such as the Spokane Civic Theatre and Portland Opera. I have held numerous lead roles in musical theatre productions ranging from Maria in West Side Story and Yum Yum in The Mikado to Fiona in Brigadoon.
I also hold a great deal of experience and expertise in the Celtic folk style, and have recordings that demonstrate this lineage.
I bring all of this knowledge to my students' sessions and am overjoyed each time they break through to their most authentic sound!